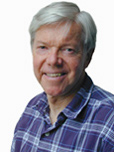 Prof. Richard B. Kieburtz
Founder
Department of Computer Science and Engineering
OGI School of Science & Engineering
Oregon Health & Science University

THE DEPARTMENT OF
COMPUTER SCIENCE AND ENGINEERING

is proud to recognize the vital contributions to software, science and society made by CSE founder,
by hosting a
SYMPOSIUM ON
SOFTWARE, SCIENCE & SOCIETY
Friday, December 5, 2003 • Portland, Oregon
This symposium will feature
Dr. John Hennessy, president of Stanford University and a Kieburtz PhD student, as well as presentations on education and research from other students and colleagues of Professor Kieburtz.


ABOUT DICK KIEBURTZ
A Northwest native, Dick Kieburtz grew up in the logging community of Shelton, Washington, and earned B.S., M.S., and Ph.D. degrees in electrical engineering from the University of Washington. After two years at Stanford on an NSF Faculty Fellowship, converting from electrical engineering to the new discipline of computer science and engineering, Kieburtz spent five years providing early leadership to the Computer Science Department at SUNY, Stony Brook.
In 1981, returning to his Northwest roots, he joined Oregon Graduate Center where he both founded the new department and served as head from 1981-1994. During this time, CSE grew from 3 faculty members and a handful of students into a robust center of research and education, currently comprised of 27 regular faculty and 127 students.
In addition, Kieburtz served for two years at NSF as a Division Director. In 2001, he was honored to be named an ACM Fellow, recognized "for founding two successful computer science departments, for research, and for service to the computing community."
Kieburtz' software research through PacSoft, his contributions to the professional community and his cogent leadership to faculty and students have become a hallmark of excellence. We congratulate Professor Kieburtz on his long and varied career and offer our appreciation for his efforts in establishing a world class department that in turn trains new leaders to contribute to software, science and society.