Trent's West Wight Potter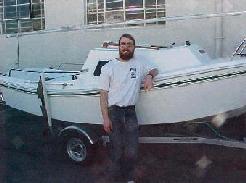 My father and I bought a West Wight Potter 15 on 2-Feb-00 (actually, he paid for it and I am taking care of it, but we both use it). We have yet to name it, so, for now it is known as hull #2417.
Eventually, I will have more info and pictures about the boat here, but since I have only sailed it a couple of time so far I don't have much material.
More to come...
For more information on the Potter, check out the manufacturer's web page: International Marine. There are many other web pages about Potters, including The Potter Yachters, the newly resurected Potter Pages and Northwest Potter Page
---
Last modified 19 Feb 00 by trent