MAREK ANDRZEJ PERKOWSKI
Professor of Electrical Engineering
Information on Logic Synthesis, Machine Learning, Intelligent Robotics, Multi-Valued Logic, Reed-Muller Logic, Spectral Methods, FPGA Prototyping and Engines. Test and Design for Test. Quantum and Reversible Logic. Education at PSU. Our research and links.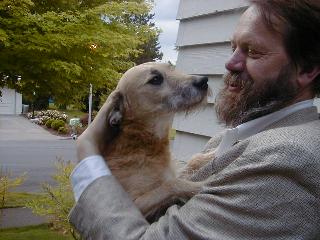 The name of the dog was REX (11 March 1987- 26 June 2000)



ECE Faculty Broschure. CEC 2007 Special Session.

PORTLAND CYBER THEATRE PROJECT

Hahoe KAIST Robot Theatre.
This is the webpage of the theatre of large stationary humanoid robots, being developed in collaboration of PSU with KAIST and Hanbat Universities, Daejeon, Korea.
Little Mobile Robot Theatre.
This is the webpage of small mobile robots, human and animal-like. The page includes Hexor, Robosapien, KHR-01 and other small robots. This project is done in collaboration with Stenzel Company and Silesian University of Technology in Poland.
RESEARCH LABORATORY AND GROUPS
SEMINARS, PUBLICATIONS. RESEARCH. INFORMATION.
BENCHMARKS
CLASSES
This page is always under construction
Last update: October 18, 2010
---

You can reach me at
mperkows@ee.pdx.edu

My address:
Marek Perkowski
Department of Electrical and Computer Engineering,
Portland State University,
1900 SW Fourth Avenue, Room 160-05,
P.O. Box 751,
Portland, Oregon 97201, USA.
tel. (503) 725-5411
ECE572.pdf
ECE574.pdf
ECE478.pdf
ECE479.pdf